CONSERVATION, RECREATION & SPORTING RANCHES
Project News
Ecosystem Goods and Services Enhance Land Values & Guest Experiences at Brush Creek Ranch
The Lodge and Spa at Brush Creek Ranch is committed to responsible conservation and balancing the needs of wildlife, livestock, the land and watershed through an ongoing land, stream, pond and forestry restoration, enhancement and management plan. To strike the perfect balance between active outdoor recreation, economic sustainability, environmental stewardship, philanthropy and a rigorous preservation of the Western way of life, the owners of Brush Creek Ranch (BCR) needed to gain an understanding of the resources they had and what could be done to improve and preserve them. Ecos provided the expertise to help the Ranch owners more fully understand the ecosystem services, goods and value of their land.
ecos inventoried and assessed over 15,000 acres of BCR land. We identified the type and location of the habitat present and the plant and wildlife communities associated with each. We assessed the quality of the habitat and identified areas that should be preserved, where conditions could be restored and enhanced to improve the ecosystem services and where habitat could be managed or created to improve the production and diversity of fish, waterfowl, and song birds. We identified compromised resource areas that would serve well for other needed functions like recreational trails, warming huts, duck blinds, camp and picnic sites or buildings.
Once identified, characterized and documented in the Brush Creek Ranch Stewardship Plan, ecos helped the ranch owners strategically prioritize and implement their projects using a "low hanging fruit" principle to quickly and efficiently improve the ecological benefits and economic value of the Ranch at a reasonable cost. Other top-ranked projects will be implemented sequentially until all of the low hanging fruit has been "picked". Then ecos will reconvene with the owners to discuss and update priorities for remaining and perhaps new projects. The Jim Pond Creation project highlighted below is an example of one of the top-ranked projects at the BCR. Future editions of the Thalweg will highlight other projects as they are implemented.
Jim Pond (as shown above before, during and after construction) was identified during the assessment as a top priority. This site was an ideal location to create a deep, cold water pond system. It was a low-lying weedy upland area of marginal pasture value connected to several small creeks which were capable of providing constant flowing water, a population of native trout and a source of aquatic insects that would later serve to "seed" the pond. After this site was vetted by the Ranch owner and manager, ecos prepared design-build plans and worked with a local contractor to create a modest fourteen foot deep pond with a naturally shaped wetland fringe, submerged cover habitat, an overhanging bank (as pictured below), clean gravels for spawning and refreshing flows capable of supporting an aquatic food chain and overwintering large catchable trout. This pond will help the Ranch attract guests, especially beginner anglers who have never experienced the deeply rich color, awe and beauty of a perfectly stream-lined rainbow, brown or brook trout.
Throughout the ecological assessment, planning, design and construction processes, ecos helped the ranch owners identify their ecological opportunities, define stewardship strategies and enhance their land and water resources to help them realize their vision.
If you are a land owner, broker, seller, or buyer contact ecos to:
help reconnect you with the your land, realize your vision, and enhance and preserve it for generations to come;
see how we can partner with you to highlight the ecological benefits available on your property so that it is more desirable for potential buyers; or
help you formulate your vision for a potential property acquisition by exploring all of its ecological opportunities.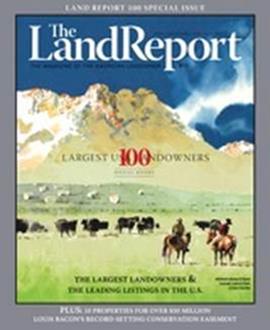 See our ad in The Land Report Largest 100 Landowners
Contact Us:
970-812-3267 |